I love looking through street style and pulling inspiration to refresh my own mindset on the wardrobe I have and styling clients at the store. Much of what I am going to share in this post, you can pull a similar look together at HH.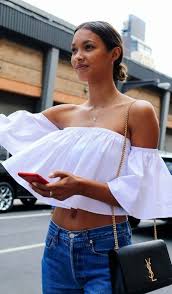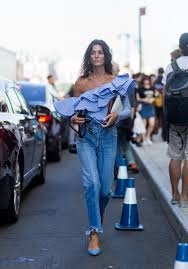 Extreme ruffles and shoulder-baring tops. You can definitely find this look inside the shop. I love the mix of a feminine piece paired with something more rugged, much like the example on the right. Tattered denim + pointed toe pumps + super feminine top.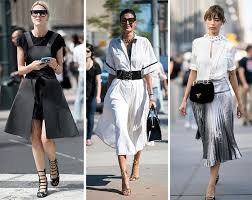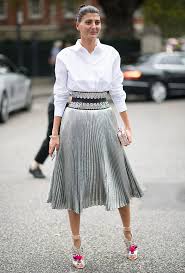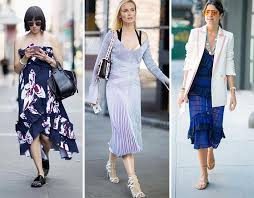 Pleats, ruffles and mid-length skirts. We have this look on the way! Also, I love the added element of a belt. I'm so glad to see belts being incorporated again - a chic, easy way to add a little extra something special to your look & cinch in your figure.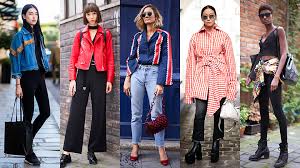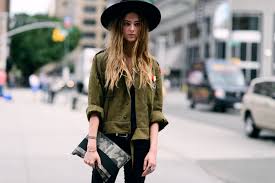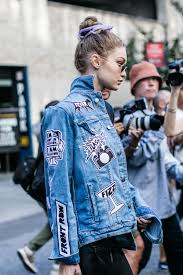 Several things to touch on here: If you haven't noticed there is a strong trend toward collared shirts aka "mens wear inspired." I have seen a lot of them unbuttoned and pulled off of one shoulder too.
Wide legged pants and culottes are trending heavily as well as our trusty ol' skinnies. Pretty much any hemline goes.
Denim jackets and utility jackets are perfect transitional toppers. We especially love all of the patches! We have a few options of these styles currently in the store!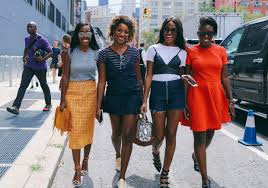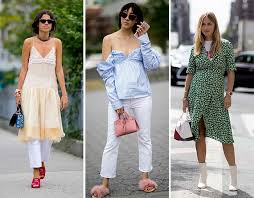 Notice the layers here. Tees under rompers & under bra/crop tops. Also, notice on far right, she added an interesting, unexpected twist to a classic dress by incorporating a graphic tee underneath the dress. Another look that trended on recent runways is the dress-over-pants. A more safe approach to perhaps ease into this look would be to take a long button down dress ("duster") and wear it unbuttoned over your bottoms. Another thing to take away from these images is to never underestimate the power of minimalistic and simplicity. A simple dress with a great shoe or a trusty tee and pencil skirt will never let you down.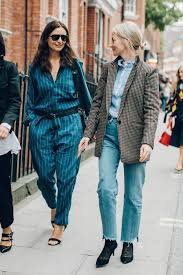 Denim on denim. I love jeans + chambray top. And I especially love rompers and jumpsuits so you can imagine my love for a denim jumpsuit (we have several options currently at the store!!)! They're so versatile and the look can be changed completely with the shoe and accessories you choose. From sporty to chic and dressy all in the change of a shoe/jewelry/handbag.
That will do it for me today. I have had my coffee at my favorite new local coffee shop and now it is time for me to get to the shop. T.G.I.F. you guys!!!! I hope you all have a wonderful weekend.
xo, Meagan