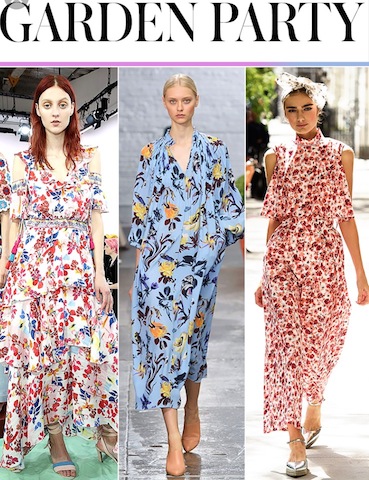 I love to research the latest fashion trends whether it is via the internet (studying photos from runway shows/ chic street style/ fashion blogs) or my favorite fashion magazines. I focus primarily on buying pieces for the store that will withstand time and not just merely "fast fashion" and super trendy. That being said, of course we focus on some of the trends and it always makes me a little giddy when what I have chosen for my store I see on the latest runways. I started blogging (my first blog) almost 10 years ago and I remember blogging about florals. Obviously, florals have been around and resurface in some way year after year. This year you will find florals revamped with styles like off-shoulder, shoulder cut-outs, midi lengths, ruffles, etc. We currently have Spring floral options inside the store and will continue to have more. Here are just a couple of my favorites...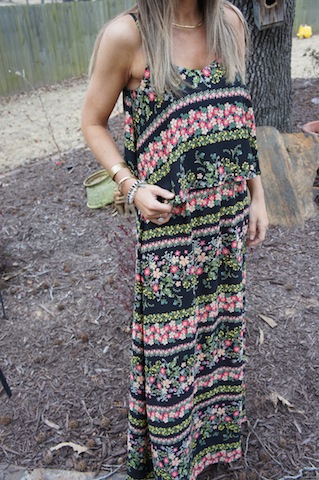 This maxi dress offers florals AND ruffle detail.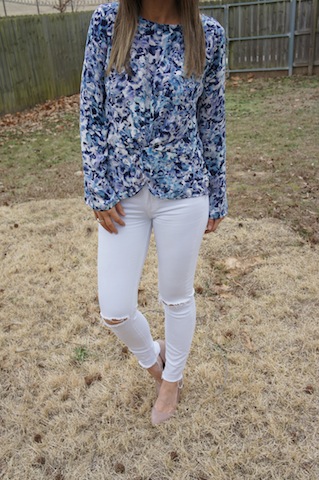 This gorgeous blouse is about sold out! It is part of the Cupcakes and Cashmere collection. I LOVE her blog. In fact, she was one of the first fashion/lifestyle bloggers I started following about 10 years ago so it's pretty cool that she now has her own collection and I have a store to offer it in!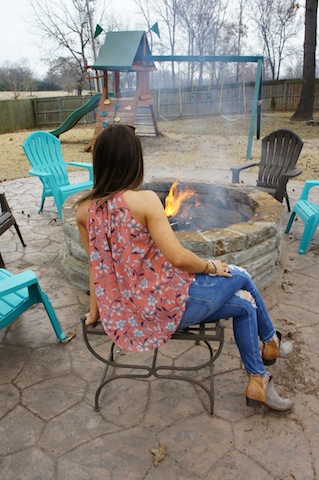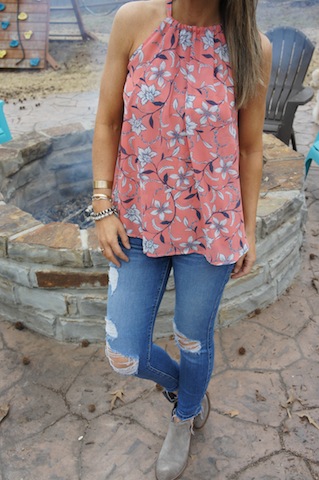 We just put this beauty out on the floor yesterday. We had this same cut in the Fall but obviously a different print and it sold out quickly so we had to get the design in again. I love this one! It will be so cute with white denim or shorts in the Summer too!
We enjoyed most of the day outside today. The weather here was so nice, despite a rather gloomy sky. We played with our daughter and our (newest family addition) puppy as we burned tons and tons of leaves. (uggghhhh...yard work )
What I love most about transition weather between seasons is that you can mix and match your wardrobe and create unique, fun outfits. For example, wear this maxi dress now with some sort of jacket - denim, moto, or an olive green utility jacket like we have currently paired together inside the store - and booties. Then as it gets warm outside you can wear it as is with your favorite sandals or wedges and layered necklaces + bracelets. Same with the sleeveless top. Add some bright, happy color into your Fall wardrobe - just add a blazer!
I'm signing off to go watch the Super Bowl with my family. Hope you have a wonderful week!
xo, Meagan